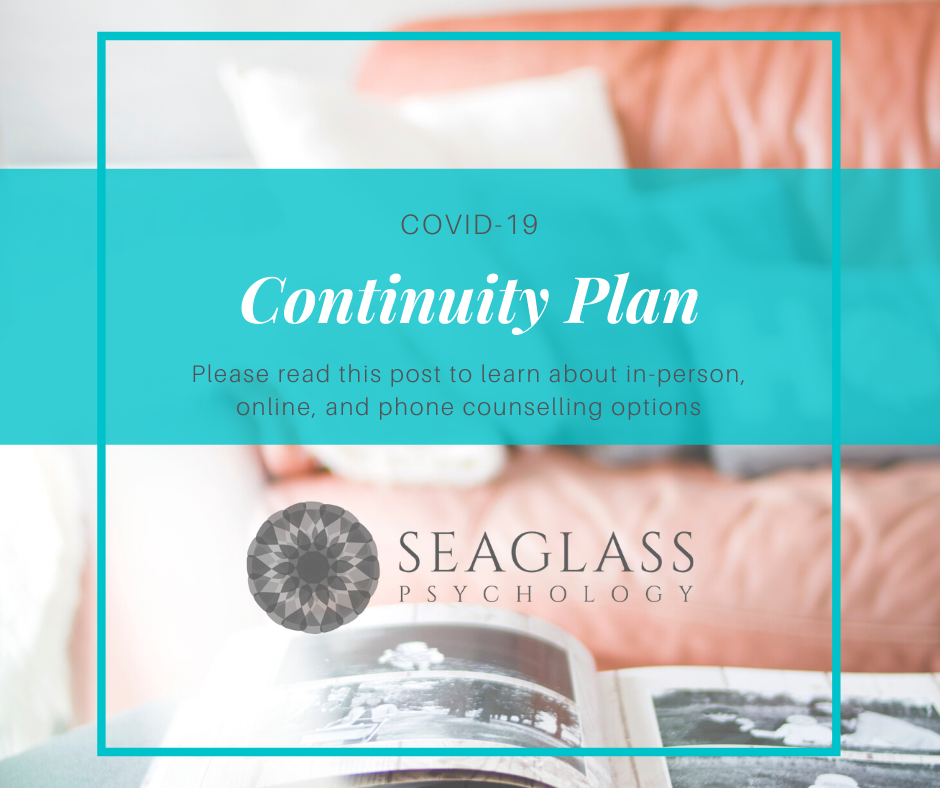 COVID-19: Learn about my continuity plan
March 15, 2020 | Seaglass News
Due to the rapidly changing scenario in the province regarding COVID-19, I wanted to share with you the continuity plan for my practice. It is my aim to be proactive while remaining committed to my social, professional, and ethical responsibilities.
As of today, the risk level in Alberta for COVID-19 is low. To align with the recommendations and updated changes from the Alberta Health Services (AHS) and the College of Alberta Psychologists (CAP), I will continue to provide in-person services as long as it seems safe to do so and in accordance to the criteria below. As an alternative, we can arrange for your sessions to be completed online using a secure video platform. In some cases, a phone call may also be considered.
Please contact me to coordinate online counselling if you:
Are a current client.
Have travelled internationally in the last 14 days.
Have had contact with someone who is suspected or confirmed to have contracted COVID-19.
Have chosen to self-quarantine.
I am not currently providing services online or by phone for new clients.
I will continue to assess risk and follow the recommendations from AHS and CAP. My goal is to provide ongoing support for my clients while maintaining a safe environment for everyone.
Please let me know if you have any questions, comments, or need help during this process. I will keep you updated on any changes that may be necessary in the future.
I grew up speaking Spanish. English is my second language. When I communicate in English, I make mistakes. I've chosen to let the writing on my blog reflect the kind of mistakes I make when speaking, so that you have an idea of what it might feel like to talk to me. I trust the message is still clear but, if it's not, please don't hesitate to ask me for clarification.

The information provided on my blog is a mix of my personal thoughts, professional approach, and articles related to mental health. The purpose of sharing all of this is to communicate the models at the core of my practice, as well as to provide education. I hope this will help to minimize some of the power imbalances related to my profession. The articles on this blog should not be considered as professional advice for any one person or group of people. If you have any questions about the appropriateness of this content for you, please contact a qualified mental health professional.