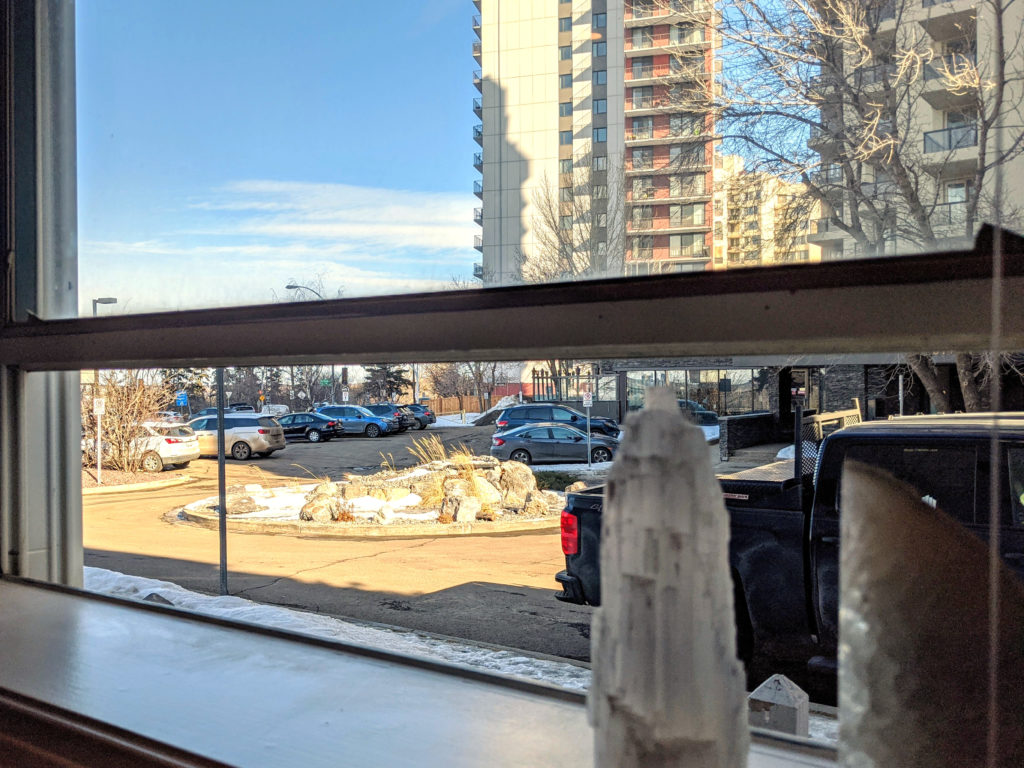 Micromeditating as self care
February 28, 2020 | Awareness, Connection, Self Care, Spirituality
Finding time to engage in self-care can be hard. We live such hurried, busy lives! Knowing how important self-care is motivates me to keep trying to make time for it. Also, it feels really good to take care of myself. A fail-safe way for me to make time for it is to do things that don't take much time, many times a day. One of my favourite things is to take what I call "Mindful Minutes", which I believe some people call micromeditations. In a way, it's about having a grounding practice; one which lets you take a break and settle down.
What I do is take time to perceive. I take a deep breath, direct my attention inwards and let something call for me. Or I look out into the world, noticing the details of the place I'm in, looking for things that give me a sense of peace and joy.
That is what I did when I looked out the window just now. It is a simple day in a typical city. It is also such a gorgeous day, hinting of spring and greens and blues. I opened the window, looking out into the River Valley and listening to the melting snow hitting the pavement outside. For one minute, it felt glorious.
The picture here is a photo I took of that moment. I typically don't, but I wanted to write about this little self-care that I adore so much. I also take this minute every morning when I get into the shower, or when I briefly hug a loved one. Doesn't it sound lovely? Like finding little gifts of joy all around you!
I grew up speaking Spanish. English is my second language. When I communicate in English, I make mistakes. I've chosen to let the writing on my blog reflect the kind of mistakes I make when speaking, so that you have an idea of what it might feel like to talk to me. I trust the message is still clear but, if it's not, please don't hesitate to ask me for clarification.

The information provided on my blog is a mix of my personal thoughts, professional approach, and articles related to mental health. The purpose of sharing all of this is to communicate the models at the core of my practice, as well as to provide education. I hope this will help to minimize some of the power imbalances related to my profession. The articles on this blog should not be considered as professional advice for any one person or group of people. If you have any questions about the appropriateness of this content for you, please contact a qualified mental health professional.