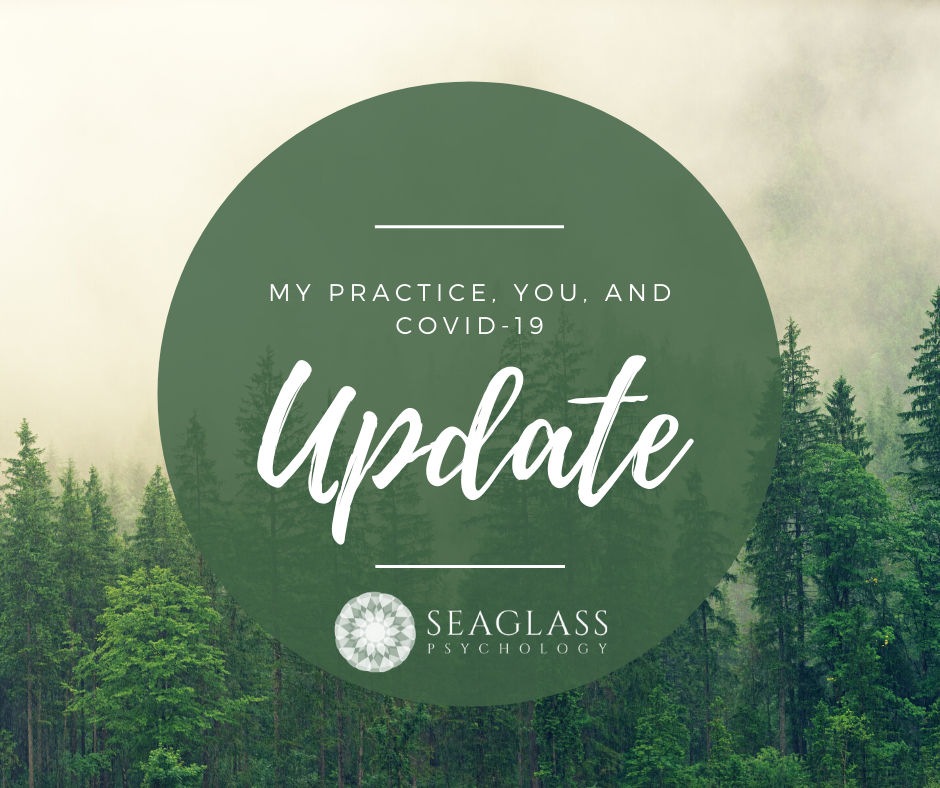 My practice, you, and COVID-19
March 23, 2020 | Seaglass News
We're all going through a lot right now. The whole world is. Sometime in the near future, I hope to share with you everything I have been doing to respond to the current situation. I would also like to tell you about how I am hopeful that all of humanity may have the chance, right now, to learn some important lessons. This post won't be about that, though. In this post, I would like to give you an update about my practice, you, and COVID-19.
(Para información en español, por favor descargar archivo al final de este post)
Current Policies
As of today, and following the latest communications from the government, AHS, and the College of Alberta Psychologists, I continue to offer a mix of in-person and online sessions. What type of service delivery is best for you is a decision we both need to make; having said this, it is part of my job to guide you to what may be the best alternative in your case. In this sense, I would like you to consider the following:
Even though I am not currently symptomatic, this does not mean I am not a carrier for the virus. Please be mindful of that fact as you think of what might be best for you. I have taken steps to minimize risks, but I can't guarantee a no-risk situation.
If I become symptomatic, someone else in my household becomes symptomatic, or a client whom I've seen in the past fourteen days becomes symptomatic, I will self-isolate for at least fourteen days.
If you become symptomatic, whether you have an official diagnosis of COVID-19 or not, please let me know as soon as possible. The same applies if you've had to self-isolate for any other reasons, e.g. recent international travel. This will help me take the necessary steps to protect my clients, myself, my family, and my community.
To address the above, you may choose to continue meeting in-person or to request online sessions. In either case, please know that I reserve the right to cancel in-person sessions if I believe it to be necessary or in response to requirements made by the authorities. If you're my current client, you have two additional options. You may choose to reschedule to a later date and, as always, you also may decide that you no longer want to work with me.
Further information
If you would like to learn more about the options you have in working with me, below you can find the letters I sent to my clients earlier today. They contain a bit more of information that is related to this post.
COVID-19 23 March
COVID-19 23 Marzo – Español
I grew up speaking Spanish. English is my second language. When I communicate in English, I make mistakes. I've chosen to let the writing on my blog reflect the kind of mistakes I make when speaking, so that you have an idea of what it might feel like to talk to me. I trust the message is still clear but, if it's not, please don't hesitate to ask me for clarification.

The information provided on my blog is a mix of my personal thoughts, professional approach, and articles related to mental health. The purpose of sharing all of this is to communicate the models at the core of my practice, as well as to provide education. I hope this will help to minimize some of the power imbalances related to my profession. The articles on this blog should not be considered as professional advice for any one person or group of people. If you have any questions about the appropriateness of this content for you, please contact a qualified mental health professional.