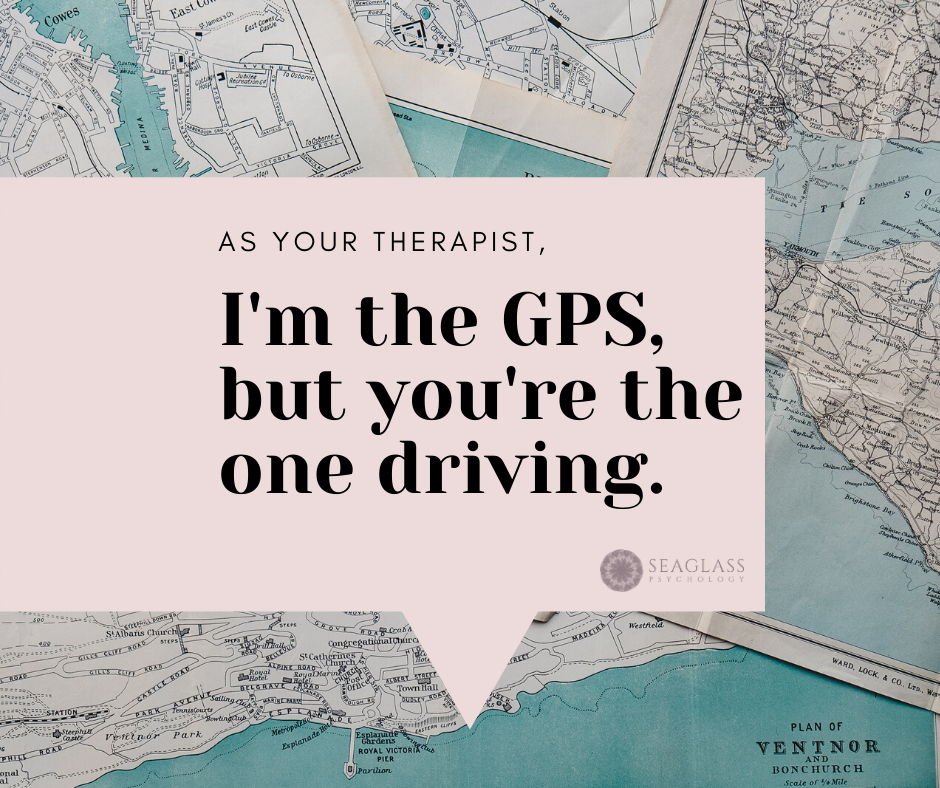 As a therapist, I'm a GPS
April 23, 2020 | General, Therapeutic Process
Do you wonder what a therapist is actually doing in session? Trying to describe my job can be difficult. How do you explain the dynamic interaction between client and counsellor? Research consistently suggests that the quality of the therapeutic relationship is one of the main aspects of making therapy work. An important ingredient to this is that everyone knows what they're supposed to be doing. To explain your and my role in therapy, I like to use an analogy: as a therapist, I'm a GPS.
You have to drive the vehicle
When you first reach out to me, I will ask what you're hoping to get out of therapy. In other words, what your goals are. Imagine these are the location to which you want to go. Perhaps you don't know how to get there, and that's why you're asking me, the GPS in this analogy, for help. So you tell me about that location; you give me the address. I use my programming, the triangulation of satellites, information about traffic from the internet — i.e., my training, my experience — to calculate a route. Subsequently, I share it with you: "This is the route I calculated. Let's turn left in 500 meters."
Problems in the route
There are things that, as a GPS, I'm not aware of. You may say, "there's construction on the route, I can't turn left there." Maybe you simply missed the exit! That happens when driving to a new destination, right? Well, it's all good. Part of my job as a therapist is to recalculate the route. Luckily, my training and my experience allow me to find different ways to get to the same place. It also lets me find the route that might work best for you; e.g., you might tell me you want to make a stop at a coffee shop — you want to take things slow, enjoy the ride. I can tell you, I'm only happy to oblige.
If you don't press the gas pedal…
The thing is, I can be willing to recalculate, take things in stride, and use my tools to make the ride both effective and enjoyable… but if you don't actually get the car moving, we won't go anywhere.
In therapy, I need you to tell me what you're feeling. That is, I need to know what is working and what isn't, if there's construction on the road and you can't go to your destination by following this route. I also need you to be an active participant! That might mean doing homework if that's what we've agreed to do, telling me what you think about what we're doing, and whether there's something that's not working for you.
Isn't this analogy wonderful?
I'd be happy to be your GPS. Are you ready to work with me? You can book online!
I am currently accepting new clients for telepsychology appointments. If you would like to check if video sessions might work for you, I offer a free 20-minute virtual Meet & Greet!
I will make a public announcement once the physical distancing policies have changed and I am able to work with people in-person again.
I grew up speaking Spanish. English is my second language. When I communicate in English, I make mistakes. I've chosen to let the writing on my blog reflect the kind of mistakes I make when speaking, so that you have an idea of what it might feel like to talk to me. I trust the message is still clear but, if it's not, please don't hesitate to ask me for clarification.

The information provided on my blog is a mix of my personal thoughts, professional approach, and articles related to mental health. The purpose of sharing all of this is to communicate the models at the core of my practice, as well as to provide education. I hope this will help to minimize some of the power imbalances related to my profession. The articles on this blog should not be considered as professional advice for any one person or group of people. If you have any questions about the appropriateness of this content for you, please contact a qualified mental health professional.