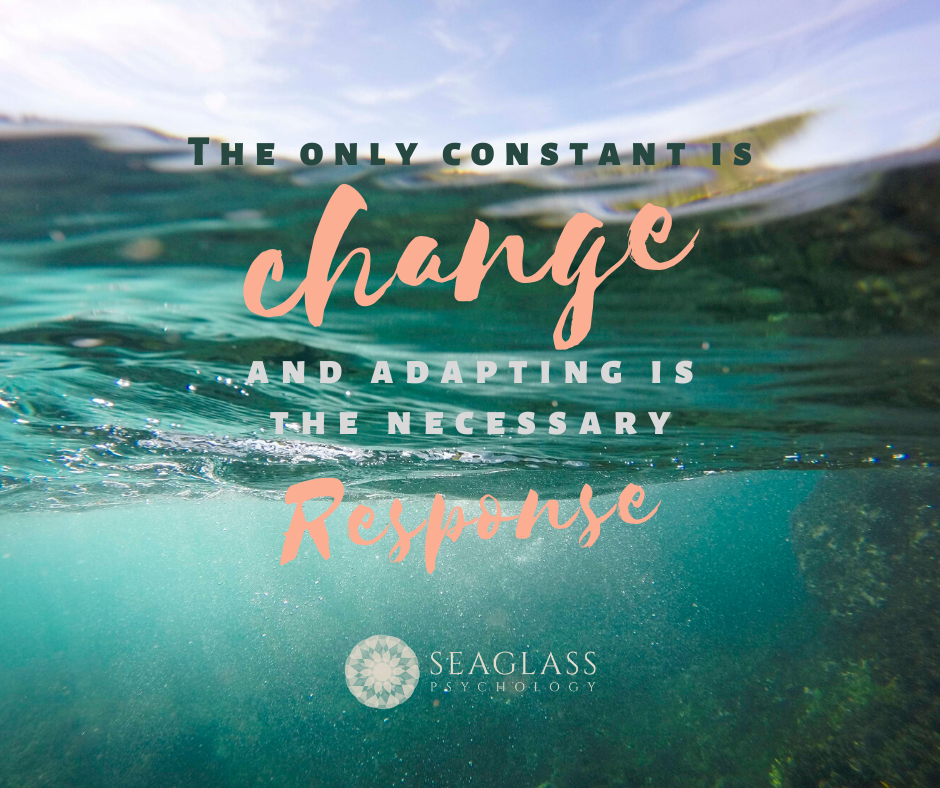 Adapting to change through curiosity
April 07, 2020 | Awareness, General, Self Care
Life has changed. In the past few weeks, I have done my best to adapt to the new normal. I run my practice fully online now. To do so, I researched multiple video call platforms, read enough Privacy Policy documents to last me a life-time, talked to several colleagues, and studied best practices for telepsychology. My brain buzzed with information and thoughts about how to do this right. I wanted to make sure that my clients had the choice to move into video sessions if they needed to. Thankfully, I think it worked well. Continuity of care for the win!
More than work
Now I have done telepsychology exclusively for two and a half weeks. Settling into it so that it becomes normal feels nice. It lets me take a good look around.
Throughout all of these changes, I've been balancing stress and gratefulness. On the stress side of things, I think about how engaging in change and adapting always takes up resources. Our brains, a long time ago, decided to save energy by doing things the same way every time. To get it to do something in a different way, we need to put a lot of work to it. That can be exhausting! On top of it, adapting right now is a compulsory change. That can get really stressful, really fast. There is the powerlessness of not having chosen to exert this kind of effort, the discomfort of trying new things, and the uncertainty of not knowing what's next.
I find the antidote to the above in self-care and hope. It fills my heart to know we're doing this to support people in vulnerable positions, as well as the medical professionals that can help them. I also look around and try to imagine how things can change for the better; what could happen if we all learn new lessons from this. If we can look around and see what matters when things get tough, maybe we can make sure we do better in the future. If we do, we can change the world.
This is where gratefulness comes in. I acknowledge that I can think about things that way not only because I've done the work to learn how to process how I feel and re-route as needed, but because I am a privileged individual. I have a home, a job that allows me to work online, and so many other things that make my life safe-enough. Right now, that's huge! And I know that, and I appreciate it.
Curiosity and adaptation
They say that the only constant is change. That means adaptation is a vital resource. The irony here is that, when we are in fear (which is the core feeling in stress, but more on that another time), we tend to retract. We constrict. Retreat. We find comfort in doing things as we always do, and we try our hardest to avoid change. In a way, our responses become more rigid. This is the opposite from adaptation! To adapt, we need to trust that we can figure things out. We need to expand, try different responses. How to bridge both extremes?
The answer can be in curiosity. Can we try to let go of the pressure, and do things as if we were explorers? What if we gave ourselves permission to take it minute by minute, second by second, responding to what is? And what if we focus on what we can do (look out for my next post) at any given time? Maybe, then, we'd focus on the now. We could allow for change, because we trust enough, feel safe enough, and have nothing to fear. We'd be living life in the present tense. And that can be liberating.
I grew up speaking Spanish. English is my second language. When I communicate in English, I make mistakes. I've chosen to let the writing on my blog reflect the kind of mistakes I make when speaking, so that you have an idea of what it might feel like to talk to me. I trust the message is still clear but, if it's not, please don't hesitate to ask me for clarification.

The information provided on my blog is a mix of my personal thoughts, professional approach, and articles related to mental health. The purpose of sharing all of this is to communicate the models at the core of my practice, as well as to provide education. I hope this will help to minimize some of the power imbalances related to my profession. The articles on this blog should not be considered as professional advice for any one person or group of people. If you have any questions about the appropriateness of this content for you, please contact a qualified mental health professional.