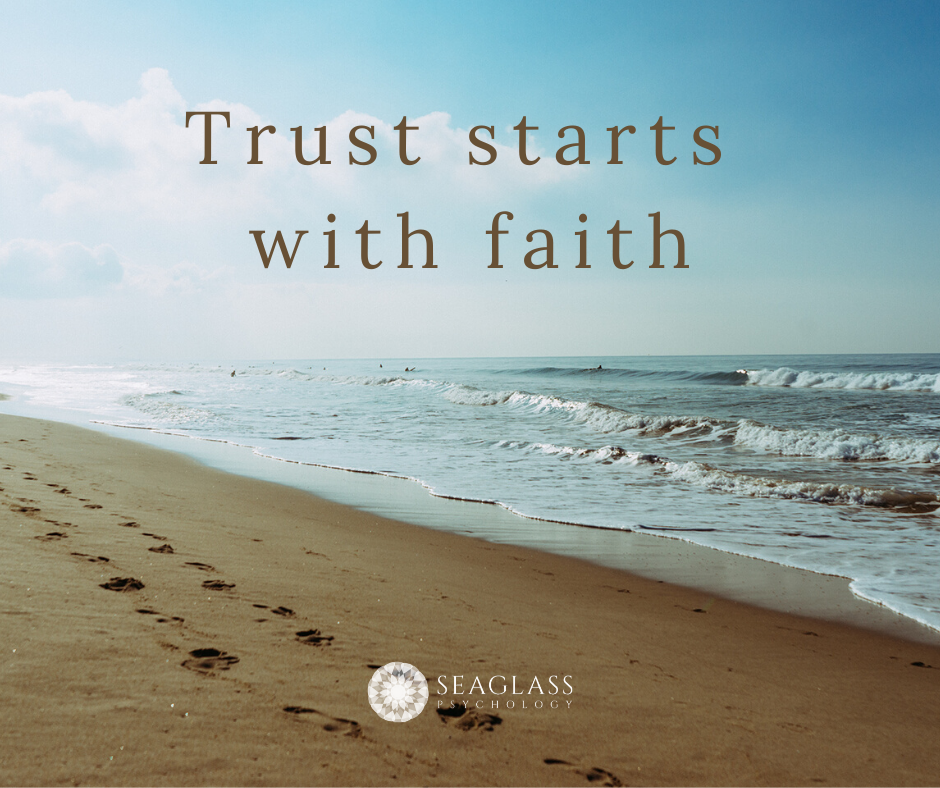 Learning to trust again after pain
May 29, 2020 | Anxiety, Connection, General, Society
When I work on the issue of trust with my clients, I like to tell them that we all need to trust each other. We need to trust that the driver next to us knows what they're doing, we need to trust the grocery store will be stocked with what we need, we need to trust our child's teacher knows what they're doing. If we don't trust those around us, we'll soon feel overwhelmed at the impossibility of existing; we may even feel paralyzed.
I often work with people who have been hurt by other people. These wounds are sometimes a few deep stabs, sometimes a thousand paper cuts. Either way, the pain and consequences of these experiences are multifaceted. One of the biggest impacts of being hurt by someone else is that it wounds our ability to trust. Surely, if you hadn't trusted them, you wouldn't have been vulnerable to them? You wouldn't have let them in close enough to hurt you?
Those questions seem to haunt so many of those I work with. On one side, they feel isolated and afraid if they have no one they can trust; on the other, they're scared that they may be hurt again if they allow themselves to trust.
Trust after the pain
In some ways, being hurt by others is a part of living. There is no such thing as a perfect, painless relationship. What makes a difference is when those involved are willing to repair the damage. In the long run, small breaks that have been repaired can make a relationship stronger. Having said that, repairing doesn't work if we don't believe in their intentions. In other words, to truly heal relationships we need to trust the other person enough to believe they regret what has happened.
Healing our ability to trust requires several skills:
Boundary setting: knowing how to express our needs and wants, how to negotiate boundaries in a relationship, when to say no or say yes and how to do that.
Letting go of control: so often there is this belief that, if we know how to control a situation, we'll prevent unpleasant or undesired experiences. This is a myth!
Anxiety management: finding a way to moderate the worry and fear we may feel at risking a bit of trust.
Trusting ourselves and our ability to do the above.
In practice, these skills result in trusting ourselves first and trusting everyone a little. Enough that we can exchange pleasantries, small talk, share a coffee with most people, as appropriate. With time, as we share more experiences with someone, we may decide that our trust in them can grow… or that it has to recede. That starting point is crucial; that we start by trusting others somewhat. The antidote to fear of harm is to feel safe enough to risk it. That's why I say, "trust starts with faith". It's all about our willingness to say, "I have hope for my safety even when I don't have evidence for it."
I grew up speaking Spanish. English is my second language. When I communicate in English, I make mistakes. I've chosen to let the writing on my blog reflect the kind of mistakes I make when speaking, so that you have an idea of what it might feel like to talk to me. I trust the message is still clear but, if it's not, please don't hesitate to ask me for clarification.

The information provided on my blog is a mix of my personal thoughts, professional approach, and articles related to mental health. The purpose of sharing all of this is to communicate the models at the core of my practice, as well as to provide education. I hope this will help to minimize some of the power imbalances related to my profession. The articles on this blog should not be considered as professional advice for any one person or group of people. If you have any questions about the appropriateness of this content for you, please contact a qualified mental health professional.