Looking back, and looking forward
December 27, 2021 | General, Seaglass News
As we near the end of another year, I wanted to share my 2021 balance. These are some thoughts about my practice as well as some personal experiences from this year, and my hopes for 2022.
Looking back on my practice
2021 was another busy year in my practice. I started offering Emotionally Focused Couple Therapy after getting advanced training in the model, which was very exciting. I booked a total of 926 counselling hours, with a mix of individual and couples clients.
As we still live with the constraints of a pandemic, virtual appointments continued to dominate my calendar. And I'm still loving them! It's been great to reaffirm my experience that telepsychology can be as powerful as face-to-face therapy. I did see some clients in-person for a few weeks. As cases skyrocketed again in the province, I went back to only providing services online after a short while.
One thing I notice when I look back at my practice this year is that, for most of it, I was unable to accept new clients. I only had availability for intakes for a few weeks at the start of the year and a few more in the Fall, and I started working with 11 new clients. Inquiries have remained stable, though, which seems to indicate that demands for mental health supports are still high.
One of the ways in which I try to support access to my services is by providing a number of sliding scale spots in my caseload. I believe access to mental health supports is a right and it should be covered by public funds. However, the current situation created financial barriers for many folks, impeding their access to mental health professionals. At the same time, I also have to add my own needs on the balance. When I look at the numbers, I see I provided a month's worth of income to my sliding scale fund. This was immediately applied to supporting a reduced fee for several clients. These results are positive, as they are sustainable for me and my practice while creating some community support.
Looking back on my personal life
In the hope of showing you a bit of the person behind the therapist, I also wanted to share some personal experiences I went through in 2021.
Several powerful things happened this year for me. Although there have been people who've passed away around me before, several family members died this year. I'm lucky to say that it's only now in 2021 that one of them was someone I was actually close to. A dear aunt passed earlier this year and grieving her has been an important part of my learning.
Another thing that's been constantly on my mind has been to work at working less. I am the kind of person to push myself to work when I'm sick or when I need rest, because I get excited with projects or because I'm driven by a sense of responsibility. In 2021, I've purposefully slowed down. This is very much a work in progress!
Many other things come up when I think of 2021. I moved into a new home, struggled with pieces of pandemic living and thrived with others, and I have connected with profound things in my own therapeutic process.
Regardless of how far we've come and how much is left in our journey, my belief is that what's important is that we keep on moving forward, even if it is with tiny steps.
Looking forward
I don't have many concrete plans for 2022. As far as my practice goes, I'm not sure yet which trainings I will take, but I will be joining a supervision/consultation group for practitioners that work from an attachment lens and who want to work with strong social and cultural awareness.
I also hope to continue slowly developing psychoeducational content, and to accept a few new clients before Spring.
Many of us celebrate something at this time of the year, and some of us take the time to review where we've been and where we're going, so I leave these words with you. As days grow longer once more, I wish this new revolution around the sun brings many gifts to you, as well as many gentle learnings.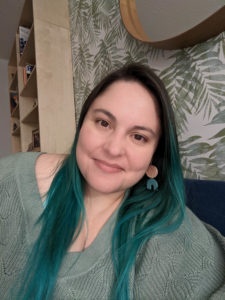 I grew up speaking Spanish. English is my second language. When I communicate in English, I make mistakes. I've chosen to let the writing on my blog reflect the kind of mistakes I make when speaking, so that you have an idea of what it might feel like to talk to me. I trust the message is still clear but, if it's not, please don't hesitate to ask me for clarification.

The information provided on my blog is a mix of my personal thoughts, professional approach, and articles related to mental health. The purpose of sharing all of this is to communicate the models at the core of my practice, as well as to provide education. I hope this will help to minimize some of the power imbalances related to my profession. The articles on this blog should not be considered as professional advice for any one person or group of people. If you have any questions about the appropriateness of this content for you, please contact a qualified mental health professional.