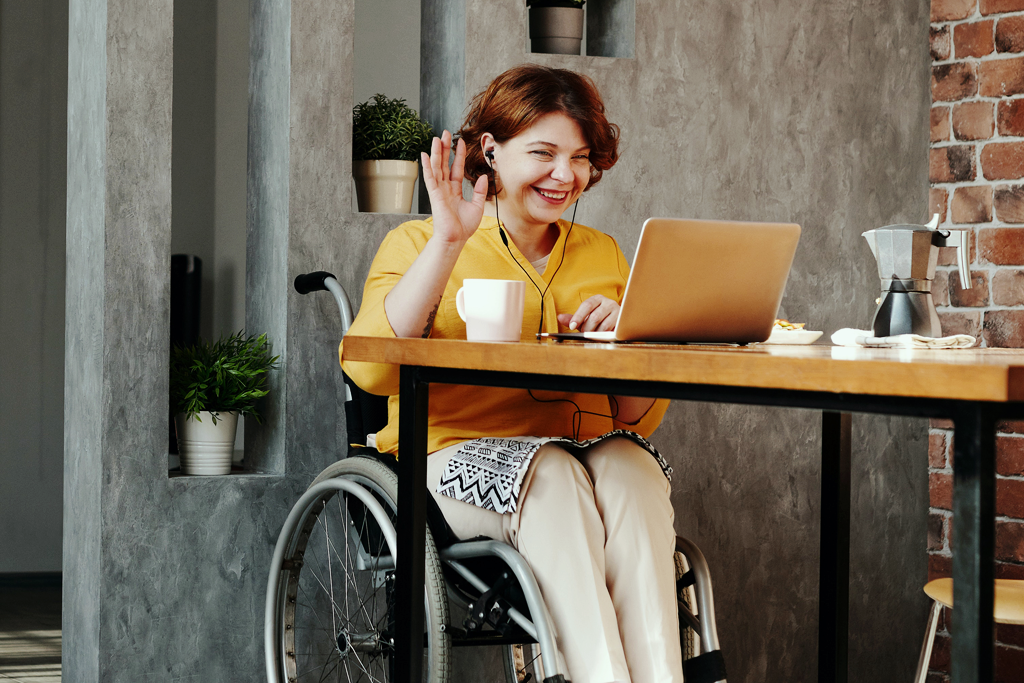 How well does telepsychology work?
October 27, 2021 | General, Therapeutic Process
In the changing landscape of a pandemic, our work as mental health providers became more essential than ever before. Technology allowed us to continue supporting people through lockdowns and social distancing. And yet, it's understandable when people are reluctant about it and wonder: how well does telepsychology work? For a lot of people, the use of technology in therapy is still a new concept. Let's talk about what telepsychology is, its benefits, its disadvantages, and my experience with it.
What is telepsychology?
Telepsychology, also known as telemental health, online therapy or virtual therapy, refers to behavioural and/or mental health care services that you can access using technology. In most cases this happens through video conferencing, but can include phone sessions and, in specific cases, the use of apps, chat, or email.
These types of services can happen in real-time, like in the case of videoconferencing (synchronous mode) or with delayed response time (asynchronous mode), like exchanging emails or using a platform to provide additional support.
What telepsychology is not: Social media accounts, webinars, membership platforms, and similar resources. These should be used responsibly and not substitute therapy, psychological, or psychiatric care.
The modality of telepsychology existed before the pandemic, but it wasn't as widespread in use as it is now, or even offered as an option in many cases. Nowadays, many professionals routinely offer telepsychology, and it's likely here to stay.
My experience with telepsychology
I began offering a mix of online (or phone) and in-person sessions to existing clients in March of 2020, when the risk level in Alberta regarding the COVID-19 pandemic was still low. By April, I had moved my practice fully online, following the guidelines issued by the government, AHS, and CAP. At the time, telepsychology seemed to best fit my personal and professional responsibilities.
In August 2021, upon the arrival of vaccinations and the ongoing changes in the provincial context, I decided to return to a mixed modality, offering a limited number of in-person sessions. But not two months later, with the province in a state of public health emergency, I've moved yet again to virtual only. By this point, my clients and I have been doing telepsychology consistently for almost a year and a half.
Since moving my practice to the online medium, I've been pleasantly surprised with telepsychology. Before I started, I worried about whether sessions would feel colder and more distant. I also had concerns about doing body-based work in this format, and being able to intuit how my clients were feeling when I couldn't see their whole body.
However, none of that has been a problem. I have come to appreciate the positive things that virtual therapy can bring to me and my clients. It's been beautiful to continue to laugh and feel deeply with them; I often forget we're using a device to connect. I've also heard from some of them that, although they had been worried as well, now they prefer it! And even though there are clients I've yet to meet in person (having started therapy with me while I've been doing telepsychology exclusively), my experience is that we've developed deep therapeutic relationships regardless.
Positive things about telepsychology
These are some of the benefits I see:
Convenience: There are no costs and wasted time on commuting, no traffic stress, and none of the potential problems associated with it, like your car breaking down. It can also be easier to fit a session into your schedule. Some providers might be able to offer a more flexible schedule as well. If you have a good internet connection and enough privacy for a call, you can do telepsychology!
Accessibility: People who live in remote or rural areas; folks with physical, medical, or mobility disabilities or concerns; people from marginalized communities; and those who experience agoraphobia, PTSD, and other conditions can access mental health care from the safety and comfort of their own home. And because distance isn't an issue, you also have access to a wider range of specialists. I can currently provide therapy to people living all through Alberta and, as I obtained my Psychologist degree from Universidad de Chile as well, I'm able to provide online counselling to clients living in Chile!
Effectivity: Research suggests that telepsychology is as effective as in-person therapy (Hynes et al, 2009; Reese, Slone, Soares, & Sprang, 2015; Tuerk, Yoder, Ruggiero, Gros, & Acierno, 2010). A more recent study, published in 2021, found that cognitive behavioural therapy (CBT) provided online can be effective in treating mild to moderate depression. Telepsychology has also been proved to be successful in treating bipolar disorder and post-traumatic stress disorder (PTSD) in people from rural areas, as reported by a five-year study published in 2021.
What somatic and process-based work looks like in telepsychology
Before I used telepsychology to provide therapeutic services, I had concerns about how it could limit some of the interventions I use in session. In particular, I worried that it would make it difficult to incorporate the body, sensations, and the complete emotional experience. While in-person sessions let me pay attention to my client's whole body language, I was able to adapt quite quickly and now my clients help me do the noticing. The face and voice are so expressive, too, that I still get a good idea of what's going on for someone based on that alone. I actually think that I have the same rate of accuracy tracking experience as I did in person!
In telepsychology, somatic work looks like this:
"Tell me if your hands are doing something": Helping you do your own tracking.
I show how to do an exercise on the camera and ask the client to mirror me. For example: I wrap my thumb with the fingers of my free hand and tell the client to squeeze.
Many of the same questions also work online: What do you notice? How would you describe it?
Remaining open to communication, being creative in problem solving, and patient when it's hard to find the right words are all very helpful, both to make each session successful, as well as to help in reaching overarching goals.
Of course, telepsychology is not perfect, and it's not the same as in-person therapy. It's understandable to have doubts about it if you've never done it before. These are some of the concerns about telepsychology you might have.
Concerns about telepsychology
Confidentiality: Protecting all interactions between client and psychologist is critical. As telepsychology relies on a third party to exist, there's always the potential for a breach to occur. However, this can be minimized by taking appropriate measures, such as using a secure and encrypted service to carry out teleconference sessions or exchange information. Some of the steps I've taken to minimize risk include the use of Anti-Virus, Firewalls, and strong passwords. I've also looked into Privacy Policies, Encryption Policies, and have signed Business Associate Agreements where possible with my providers. To my current understanding, all services I use are encrypted. Your psychologist should advise you of the risks and limitations of telepsychology, and answer your questions as needed.
Privacy: It's important to make sure that you'll have access to a private space for around an hour. While doing therapy from home might be ideal to some, not everybody has this possibility. You might not be alone in the house, which might make you afraid of truly opening up. You could be interrupted. Something happening elsewhere in your house might distract you. You might prefer in-person sessions as a way to get out of that daily environment you have no control over. In these cases, some common options are to have a session in a closet, bathroom, or a car. Additionally, if you have a good data plan, you may choose to go somewhere like a bench in a park without many people around, or park in a public space and sit in the car. While not ideal, these options have worked for my clients to find the privacy they need.
Accessibility: Just as telepsychology has advantages in this area, it also has limitations. We usually take phones, computers, and internet access for granted, and they've taken center stage during the pandemic. It's important to keep in mind, though, that not everybody has access to them. Or, instead, you might not have a good internet connection, or a properly working device, and sessions might get interrupted. Even without previously known issues, we're relying on technology that might just stop working.
Final thoughts
It seems we still have ways to go before we can come back to in-person sessions fully and without worries. In the meantime, telepsychology has proven to be an effective and convenient option. The myriad of changes the COVID-19 pandemic has brought into our daily lives are likely to have had an impact on our mental well-being, and these impacts are likely to last well past the end of it. For some people, it might have brought to the surface or exacerbated issues that had been previously ignored. For others, the experience of the pandemic itself might have brought on feelings of anxiety. Whatever the reason, seeking psychological supports is always a valid choice.
In my experience, telepsychology has been a great addition to my practice, so much so that I will continue to offer it once the pandemic is over. If you think you'd like to start therapy but are unsure about whether doing it virtually is a good option for you, ask questions. While telepsychology has many benefits, your comfort and trust is essential in building a valuable therapeutic relationship.
I grew up speaking Spanish. English is my second language. When I communicate in English, I make mistakes. I've chosen to let the writing on my blog reflect the kind of mistakes I make when speaking, so that you have an idea of what it might feel like to talk to me. I trust the message is still clear but, if it's not, please don't hesitate to ask me for clarification.

The information provided on my blog is a mix of my personal thoughts, professional approach, and articles related to mental health. The purpose of sharing all of this is to communicate the models at the core of my practice, as well as to provide education. I hope this will help to minimize some of the power imbalances related to my profession. The articles on this blog should not be considered as professional advice for any one person or group of people. If you have any questions about the appropriateness of this content for you, please contact a qualified mental health professional.